It's time to release the full set. As is our custom, here's the full preview for Parhelion. You'll also find these cards with their full text on NetrunnerDB, where the full set has been listed as of today.
RUNNER: Anarch ⬩ Criminal ⬩ Shaper ⬩ Neutral
CORP: Haas-Bioroid ⬩ Jinteki ⬩ NBN ⬩ Weyland ⬩ Neutral
Runner
Anarch
Criminal
Shaper
Neutral
RUNNER: Anarch ⬩ Criminal ⬩ Shaper ⬩ Neutral
CORP: Haas-Bioroid ⬩ Jinteki ⬩ NBN ⬩ Weyland ⬩ Neutral
---
Corp
Haas-Bioroid
Jinteki
NBN
Weyland
Neutral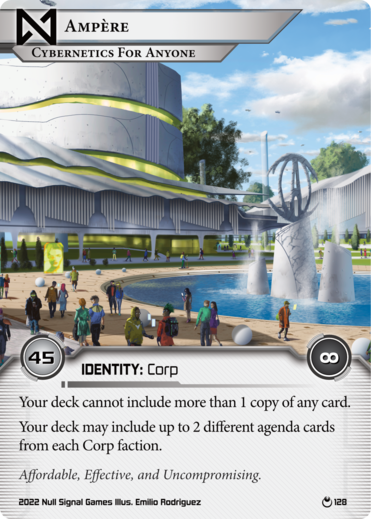 What's next?
Parhelion is now available as pay-what-you-want Print-and-Play PDF, in English, French, German, Portuguese, Spanish, and Traditional Chinese, with additional languages being added as they are finished. See the Parhelion product page for download options. The full set will be uploaded on NetrunnerDB today, with Jinteki.net implementation expected to be completed this weekend.
On Monday, December 12, physical copies will become available for purchase from our new online store (US-only for now – see here for details), our print-on-demand partners at DriveThruCards and MakePlayingCards, as well as our Authorized Resellers. See our Purchase Guide for details on which purchase option is best for you, and the Parhelion product page for links to each storefront.
The release of Parhelion will be triggering a rotation in the Startup format, and the Ashes Cycle will be leaving the Startup card pool. The list of sets rotating out is as follows:
The Startup card pool will now contain the following sets:
System Gateway
System Update 2021
Midnight Sun
Parhelion
Parhelion's release will not trigger a rotation in the Standard format.
Parhelion becomes legal for Casual-tier organized play events immediately upon its release, and for Competitive-tier organized play events on 16 December, 2022. The accompanying Startup rotation also takes place simultaneously. See our Supported Formats page for the full details.
Our Rules Hub has just been updated with the latest version of the Comprehensive Rules and Card Text Update documents, with additional card rulings and clarifications to be added to NetrunnerDB over the next few days. Finally, a pronunciation guide for all the names of cards, characters, and locations in Parhelion can be found on its product page!
As we all bask in the light of Parhelion's release, don't let this brief moment of calm fool you: Corps and Runners struggle for dominance with renewed ferocity, and are already looking forward to "Bell-Tower" for more tools with which to ensure victory! Sleeve up your new cards, jack in, and join the fray!