Tournament Organizers! We have an important announcement to make regarding the 2023 American Continental Championship: We are attempting to make this year's event in-person, and to do that we need your help.
This will mark the first year of a new set of initiatives for Organized Play, the first being that we will be attempting to run at least one in-person Continental Championship per year in either North America or Europe. This is expected to always be the continent opposite to the one hosting the World Championship for that year.
Our second initiative is where you come in: we are looking for a Tournament Organizer to step up to plan a Continental event in exchange for sponsorship from our end. You pick the venue, you set the date, and we'll handle all of the marketing and prizes with minimal money coming out of your pocket (more on what that means later)!
The reason we're going this route instead of running Continentals ourselves is fairly straightforward: Organized Play does not have the organizational capacity to plan two large in-person tournaments a year to our desired standards and still deliver on our kits and online events. To try would cause a dip in quality, volunteer burnout, or a scaling back of our offerings.
Why do that when this community has so many talented TOs? With your help we can maintain the online and offline presence our community has come to expect, and you can partner with us to highlight your scene and their achievements. It's a win for all of us.
Sponsorship Details
This offering comes in the form of a sponsorship, which means your event will become an official Null Signal Games event. Our goal isn't to remove your local flair or personal style, but we have a few details you need to know and expectations you'll need to follow.
What We'll Give You
We will work with you or your venue to cover the cost of booking, provided that there is a booking charge, we can be invoiced, and you don't handle your own ticketing. This will be capped at $1500.
We will handle ticket sales using our Eventbrite account and provide you with access to the guest list before, after, and during the event.
We will provide you with a 2023 Continental Championship Kit that will contain enough prizes to support up to a 100 person event, for FREE.
We will provide you with marketing materials, including posters and standees, that you may use to promote your event and Null Signal Games, for FREE.
We will handle marketing on social media and digital platforms. This will include our website, Facebook, Twitter, Mastodon, as well as community Discord Channels, Reddit, and Slack Channels.
We will provide you with access to the Null Signal Games Twitch so that you can stream the event to our online communities.
We will work with you to commission a unique promo art for this event. This art will adorn a card that will premiere at your event and be re-issued at the 2023 World Championship.
What is Expected of You
You will find and book an event space that will host up to 100 attendees within North America, preferably within the United States of America.
Your event will start before August 13th, 2023 and conclude no later than that date if it is a multi-day event.
You will find a sufficient number of volunteers to staff the event, including judges and all support staff.
You will post the tournament on AlwaysBeRunning.net with a suffix of "Sponsored by Null Signal Games" and mention our sponsorship in the description.
You will run the event to the standards of our Code of Conduct, applying a strict application of all of our policies contained therein.
You will run the event to the standards of our Competitive-tier events as outlined in the Organized Play Policies, also applying a strict application of all policies.
You will display all provided marketing materials at the venue in prominent and visible locations so your guests and other venue visitors will be able to easily see them.
You will work with our stream team to host a stream of your event with commentary on the official Null Signal Games Twitch.
You will affix our branding to all digital media, social media posts, and streaming related to the event.
Questions You May Have
What happens if you can't find an event to sponsor?
We will simply revert to running the American Continental Championship online, and try for a sponsored event next year for the Europe, Middle East, and Africa Continental Championship.
What if I have already booked a venue?
That's not a problem, so long as you can provide us with an original invoice we will be able to offer reimbursement for the cost of the venue. We will not be reimbursing events that choose to handle their own ticketing as that's how we're expecting to pay the majority of the cost.
Is there a cap on venue cost reimbursement?
Yes. We will only cover up to $1500. We suggest attempting to book at party rooms or game stores, as their bookings should generally fall within this range.
What if I have already started ticketing?
You may still apply, however in this case you have two options: 1), refund your attendees and direct them to our ticketing, or 2) give up venue reimbursement as ticketing is how we're expecting to cover the majority of our costs. You will still receive a free kit, marketing materials, and the promo commission.
What happens to the extra prizes and marketing materials after the event?
You get to keep them! The extra prizes are yours to use for your future events, and we have found that some attendees might enjoy having banners and posters as tournament memorabilia.
Do I have to have a venue booked to apply?
No. However, you must have one in mind and contact information for the primary point of contact at the venue. Also, you must have negotiated dates. Payment requests can be forwarded from the venue to us to finalize.
Can I apply if I already have applied to or been selected as a National Championship?
Yes. If selected for sponsorship, your event will become the American Continental Championship instead. If you already have purchased a National Championship kit, we will find a replacement for you to send it to and issue a refund.
What do I do if I have questions or concerns not covered by the above?
Please get in touch! You can email us, or contact any member of Null Signal Games on Discord, Slack, or social media, who will put you in touch with the right person to ask.
How to Apply
You will need to use the link below to access a Google Form that will allow you to submit details of your proposed event. You will need your contact information, event dates, contact information for the venue, a venue address, venue website, the venue's maximum capacity, the estimated number of attendees, and a general description of your plans for the event.
The application process for this event will be much longer than others, ending May 27th, 2023. This will allow potential organizers lots of time to find a venue and start the booking process, but be warned: We will be reviewing applications as they come in, and the application window will close early if we find one we are happy with. Get applications in early!
Preview
What fun would it be if we didn't give you at least a little taste of the prizes? More to come (including the Reigning Champion Card!) when we announce the Continental season properly.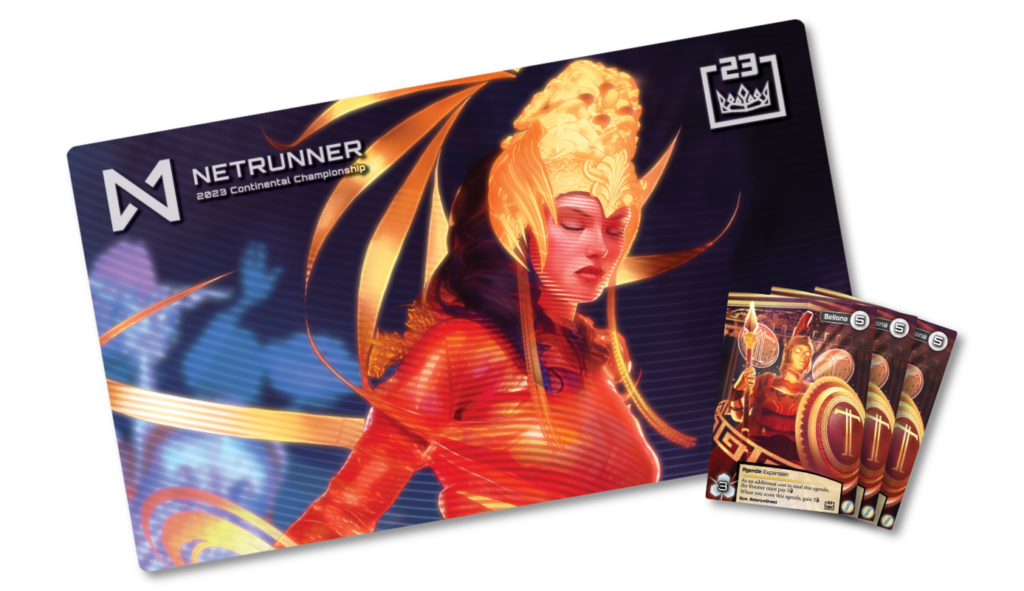 And that's it. We're excited to work with you. Thank you, and Always Be Running.