What a lovely Scoopsmas we all had. Now all that's left is to wait for your shiny new present before you start to build for in-person tournaments and events. But what to do in the meantime? You want to play with these now! Don't worry, Papa Orbs and the Organized Play team have your back: Let's talk 2022 Continental Championships.
We announced the dates for these in a previous article, but we stopped short of exact times, the prize selection, and ticketing links. Well, friends, those shall all† be revealed today. You will find tournament information below, including exact times for registration, tournament starts, and ticketing. Use worldtimebuddy.com to convert event times into your timezone, if needed.
† – For certain, varying definitions of all
Tournament Information
All tickets are $15 USD, and the format for the events will be Standard. Number of rounds and depth of the Cut will depend on the number of players for each event. The events will use tiebreaker rounds at the end of the Swiss day to clean up the Cut if needed.
Continentals will once again be held online, and split into three different events. As the events will feed into an Intercontinental Championship, you may only play in one (1) of the three events. Please take that into consideration when buying your ticket.
You will be expected to complete a registration form and purchase an Eventbrite ticket to participate in any of the Continental Championships. Your registration form may be edited until registration closes.
Asia-Pacific Continental Championship (APAC)
American Continental Championship (ACC)
Europe and Africa Continental Championship (EACC)
Intercontinental Championship
This will be an invite-only triple-elimination tournament for the Top 4 of each Continental Championship to crown the overall Intercontinental Champion for 2022.
September 10th will be the date of this tournament, 10:00AM UTC for Check-In, and 10:30AM UTC for Round 1 Start.
Prizing
Right. You want to know what you can win.
Before we get to some reveals, we must mention there's a theme to this year's prizes: Champions. Those who came before, and those who will rise up to take their place. Individuals who heard the call of "Are you good enough?" and responded with a hearty "Yes. I am."
To commemorate these singular individuals, these titans of agenda snipping and corporate devilry, we have two cards commissioned with the likeness of two champions: William Huang, and Dan D'Argenio!
William, a.k.a. Sokka, was the winner of 2021 APAC and 2021 Intercontinentals. As such, we retroactively gave him the honor of the first Reigning Champion Card! This prize, as we have announced, is a commission of his likeness and a special selection between him and Organized Play.
Dan, a.k.a. mediohxcore, is the Greatest of All Time (GOAT) of Netrunner. He is a two-time winner of the World Championship, and a title holder of countless other high-profile tournaments. Dan is known for his intense hatred of sleeves, love for Tecate beer, and absolute mastery of the art of the lucksack.

That's enough belaboring the point. Here's the kit and prize lists.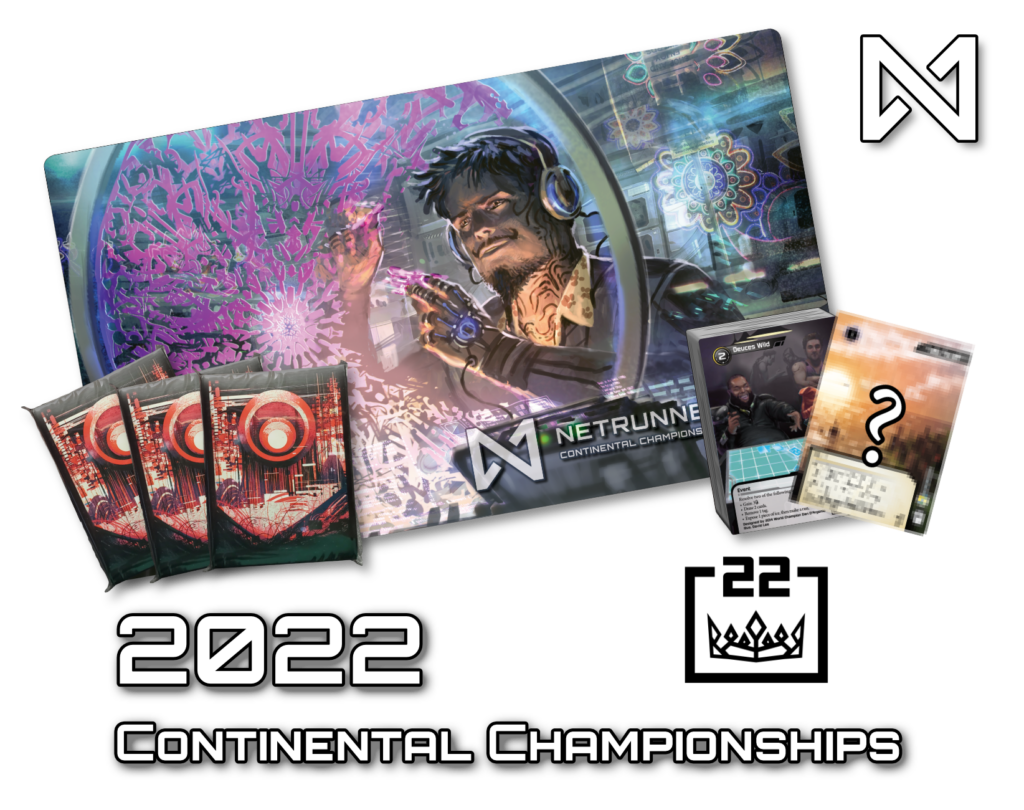 Continental Championship Prizing
* – Players tied with these places on points will also receive the prizes
** – A friendly reminder: this card must be sleeved for tournament play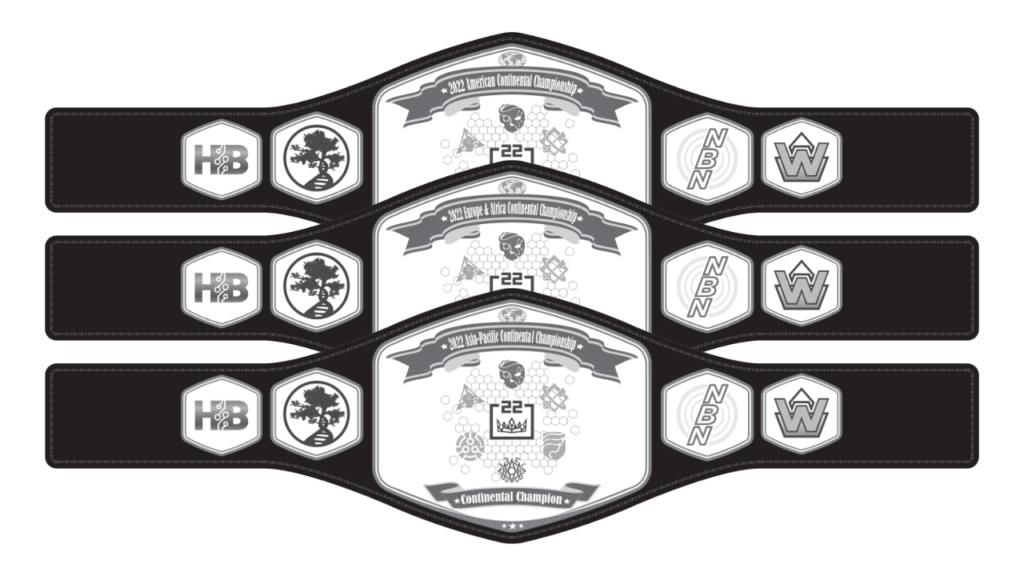 Intercontinental Championship Prizing
1st Place: 2022 World Championship Bye (Unless Awarded with Continental)
1st Place: Reigning Champion Card for 2023 Continentals
Top Half: 3× Mystery Card in Foil (Illustrated by Benjamin Giletti)
Qualifiers: 3× Deuces Wild in Foil (Illustrated by David Lee)
Astute readers will no doubt have noticed in both of these that there is a "Mystery Card" listed, and in the prize image, there's a pixelated stand-in card. This is Sokka's champion card, and will be revealed Day 1 (August 20th) of the Asia-Pacific Continental Championship on our steam. Tune in to see what this prize will be!
Streaming & Commentary
Please remember you can catch all the action live on the official NISEI streaming channel, as well as many side streams which shall be announced closer to the event. The official stream will also be hosting raffles during the day, so tune in and you might snag yourself a nice little prize!
If you would like to help stream or commentate any of the events, please get in touch with us at op@nullsignal.games!
---
That should be all from the Organized Play Team! We hope to see you at the 2022 Continental Championships. Always be running, folks, and we'll leave you with a taste of what it feels like to be a champion: Me, Orbital, mean-mugging y'alls with a belt in hand.