Hopefully by now you know that ol' Orbs says what he means and means what he says. I said not too long ago to members of the community that information on the invitational event would be coming Soon™. Well, friends, today is that day. It's time to learn about the Circuit Breaker Invitational.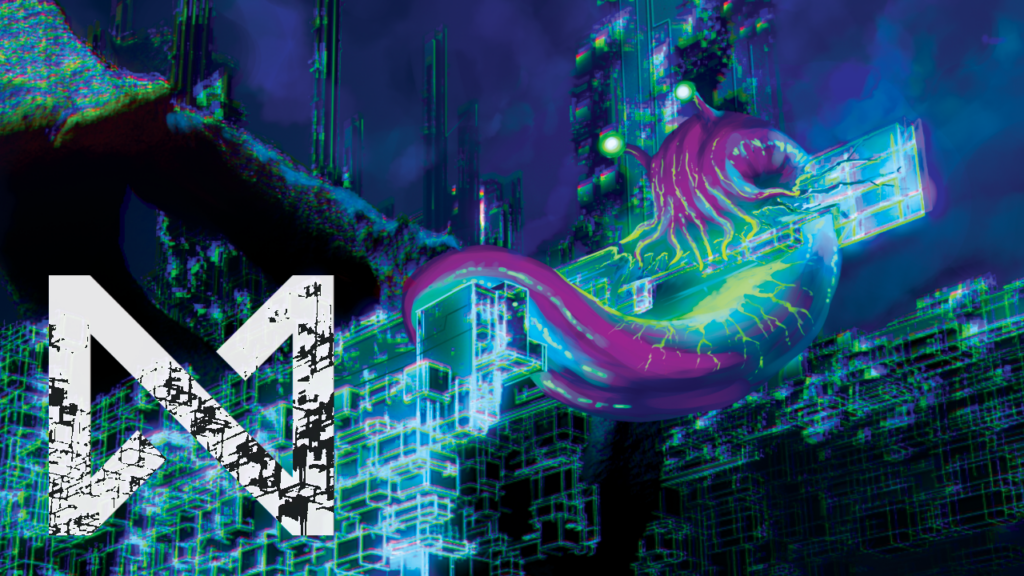 What is it?
The Circuit Breaker Invitational is a special year-end online tournament that is only available for winners of a Circuit Opener or National Championship event. Not all events qualify, and we'll discuss that later.
This tournament is meant to be the final online capstone to the 2022 season as a counter point to the (hopefully) in-person World Championship event. The current plan is to run it after the conclusion of the World Championship, tentatively early- to mid-November.
To cover our costs for this tournament, we will have to charge a small fee to entrants, though it should not be more than $10-15 USD. Winners of the National Championship events will have this fee waived as a nod to the higher prestige of those events. [Addendum: To be clear, this tournament will be run at a loss to NISEI, the fee is simply for postage; this isn't a money maker]
What qualifies?
To qualify to offer an invite, an event must be posted on Always Be Running and have concluded with 8 or more participants. Boosted events using two or more event kits may offer a second invite at 24 or more participants. Tournament Organizers (TOs) should email op@nullsignal.games if their attendance was significantly higher and we will determine if you may offer additional invites.
Any invites offered are voluntarily transferable to someone else who has participated in the event. If the first place finisher has already won an invite at a Circuit Opener or National Championship event, it is heavily encouraged for them to inform the TO and pass their invite down to the next highest finisher.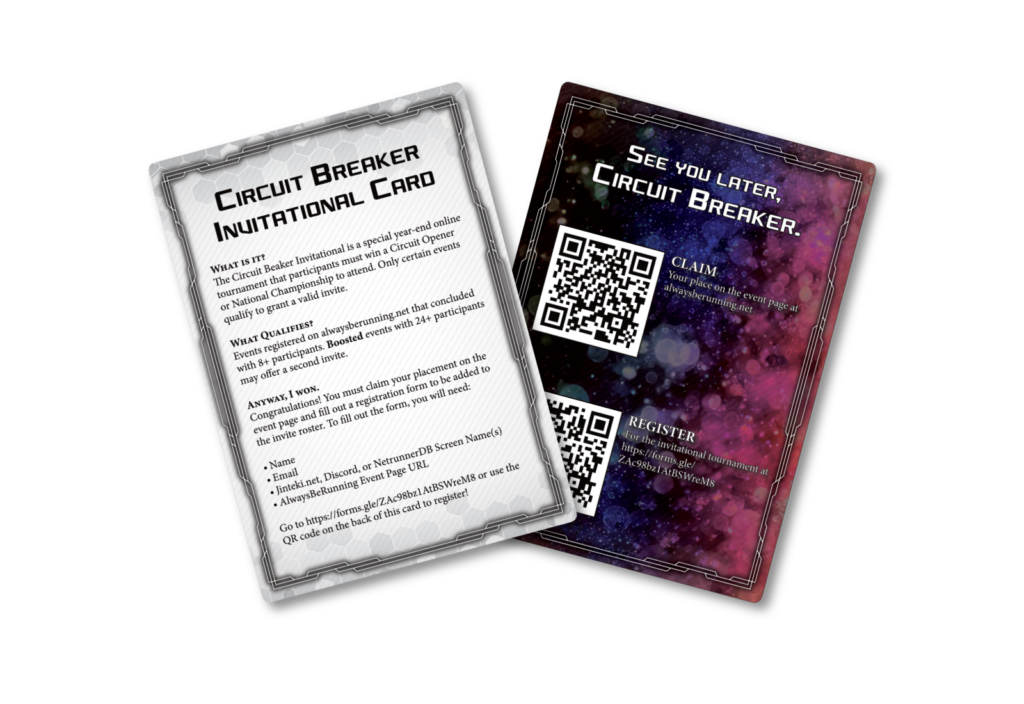 Events posted on Always Be Running must have the 2022 Circuit Opener or (for this year only) 2020/2021 Store Championship prize kit selected as their prize kit. Any additional prizes are acceptable and up to the TO, and won't disqualify the event from offering an invite so long as they are using in conjunction with an official prize kit (we encourage the use of this community's fabulous talents, see the Artist Colony listings on Near Earth Hub).
For running and concluding the event, we suggest using our tournament software Cobra. This application makes it easy to gather player data, run the event, and import all the necessary things to Always Be Running to automatically conclude your event. It works well on both tablets and smartphones!
Anyway, I won.
Congratulations! Winners of a Circuit Opener or National Championship event must claim their invites to be able to participate in the Circuit Breaker Invitational. You should receive a card from the TO that explains all the necessary steps, but just in case we'll go over them here.
First, go to Always Be Running and find the event you participated under the Results page. Find yourself in the tournament results, and claim your placement within the event. This step will require that the TO has concluded the event, and you will need a valid NetrunnerDB account to make the claim.
Next, you will need to gather the following data to be able to fill out the registration form for your claim. Find all the following:
Name
Email
Jinteki.net, Discord, or NetrunnerDB Screen Name(s)
Always Be Running Event Page URL
Finally, you'll go to this Google Form to enter your information and lock in your spot for the Circuit Breaker Invitational.
In the case of any conflicts between claims, the highest placed claimant will receive the invite to the tournament and the other person will be informed their submission is not valid. Additional investigations can be done by sending an email request to op@nullsignal.games, but we do have to warn without some sort of supporting evidence, there's not a good chance of overturning decisions.
What's at stake?
While we haven't figured out the full set of prizes for the Circuit Breaker Invitational event, there are a few announcements we would like to make today regarding the prizing. [Addendum: The prizes we're talking about here will not be the only prizes for this event. There will be alts and non-card prizes, to be announced at a later date.]
The winner of the event will receive a special title: Circuit Breaker.
This is a bit of a cheeky reference to the title "Nine Breaker" from the Armored Core games by From Software, which is one of my favorite series of games. In short, the Nine Breaker is a 1st-ranked player from a Top 10. It's a bit cheesy, but I am a cheesy fellow and currently managing the global tournament scene for this game, so it's what you're stuck with. Hopefully you grow to love this title as much as I do.
The other prize is pretty special, and requires us to talk about prizes at Worlds: Effective immediately, the World Championship will be the only tournament to grant a Champion Card. This is the prize that gives you the chance to create your own card with the NISEI Design and Development teams.
Our reasons for this change are twofold. First, there is significant debt to previous winners already. We have a lot of champion-designed cards in our backlog. Second, and relatedly, both teams involved, Design and Development, believe that this prize creates too much pressure on their resources when producing new sets.
Since that is the case, Organized Play has pivoted to a new prize that we believe is just as exciting. We would like to announce: Reigning Champion Cards! The first events to utilize these will be 2022 Intercontinentals and the 2022 Circuit Breaker Invitational.
Organized Play will work with the winner of these events to create a custom commissioned art featuring them. They will receive a print of this art once it is complete, all expenses paid on the commission, print, and shipping.
As if that's not enough, the next year's Intercontinentals and Circuit Breaker Invitationals events will have a special prize featuring this art! Just as with the artwork itself, the champion will work with Organized Play to specially select the perfect card to go along with their artwork.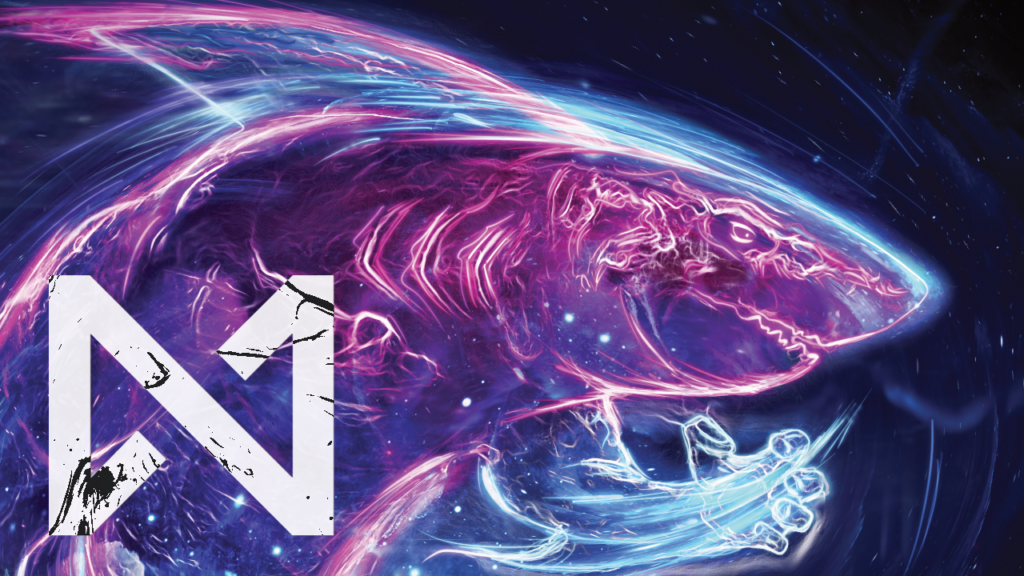 And that's that! We're excited to share this new tournament with you, and hope it's inspiring your competitive spirit.
See you later, Circuit Breaker.