Today we have tons of information for you regarding the upcoming 2020 World Championship! We hope you'll all join us there for a fantastic weekend of Netrunner!
The World Championship will be occurring entirely online over 9, 10, and 11 October 2020. As with the 2020 Continental Championships, play will occur via Jinteki.net and communication via the Project NISEI Discord server. The schedule is below:
Day 1A: Friday 9 October 2020
This is the ideal day for players in North and South America.
Check in – 10:30am PDT (UTC -7) (1:30am Saturday AWST)
Player Meeting – 11:20am
Round 1- 11:30am
Day 1B: Saturday 10 October 2020
This day's schedule is better suited for those in Europe and Africa.
Check In – 10:30am CEST (UTC +2) (4:30pm AWST)
Player Meeting – 11:20am
Round 1 – 11:30am
We have arranged the time zones for all three days to best suit the majority of attendees. We recognize that these times will not be ideal for everyone, but we encourage players to prepare for playing in these time zones just as they would for an in-person event. Check-in times for both Day 1A and Day 1B are also noted in AWST to help those in Asia-Pacific decide which day better suits their schedule.
Each day of Swiss will be up to seven 65-minute rounds, with a 45-minute break between rounds 4 and 5. We expect each Swiss to take about 9 hours, so plan accordingly. Just like previous virtual events, you will need to check-in via the Project NISEI Discord server before the event begins, and remember to check this periodically as we will use it for all official communication over the weekend.
Tickets are on sale now and may be purchased at the link below. You will also need to fill out the registration form which will include your decklist. Be aware that once you submit a decklist it cannot be changed, so please be careful. You may also indicate your preference for Day 1A or Day 1B (or both). We will do our best to honor everyone's preference while still maintaining balance in the number of players each day. If you have no preference, we will assign you to whichever day has fewer players.
The registration form can be found here, but it does not open until 18 September to give players time to adjust to the new Standard ban list. If you are able to purchase your ticket and complete your registration before 6 October, please do so, as last-minute registrations put a strain on our admin team and may lead to confusion. Don't worry – we'll send you a reminder email on or around the 18th containing the link.
Day 2: Sunday 11 October 2020
Check in – 11:00am UTC
Tiebreaker round – 12pm UTC
Cut starts 12:50pm UTC
The final day is the culmination of the event with a single tiebreaker round (if required) followed by a cut to top 16. We estimate any players with 11 or more wins during Day 1 will qualify for Day 2 and those with 10 wins may qualify for a Tiebreaker round to make the cut. An announcement at the end of Day 1B will clarify who has qualified and those players will also be notified individually.
At the conclusion of the double elimination rounds, NISEI will host a short Prize Ceremony with the top players on the official stream. There's a secret prize for Top 4, and we will announce exactly what they have won at this time!
Side Events
Also running all day Sunday are side events—Standard, Core Experience, Eternal, and Draft. These events have no scheduled start and end times and will be run on a first-come, first-serve basis. Side events will not be covered on the official stream—but we encourage streamers who want to cover these events to reach out to us at info@nullsignal.games! Entrance for these events are included in your main event ticket, and there is no limit to how many you can join. Sign-up sheets and further information will be posted in the Project NISEI Discord on Sunday, with them firing periodically when enough people show interest.
For more information about each format, please see this page.
Afterparties/Socializing
Most people agree that the best part of large Netrunner events is the socializing—going out to the restaurant or the bar with your friends, or even hanging out back at the hotel. Don't worry—not all is lost in 2020! Every day at the conclusion of the main event, NISEI and others will be hosting virtual afterparties! Some of these will include fun activities like Jackbox party games and Netrunner trivia via Kahoot. There will be plenty of separate rooms to join based on your preferences. If you are interested in hosting your own virtual happy hour or afterparty or helping with an official one, please reach out to us at info@nullsignal.games! At the end of each day we'll provide a list of events that you can join to "see" your friends, or make new ones!
---
Editor's Note: The System Update IDs offered as prizes that are not in a current Standard-legal set (Steve Cambridge and Ayla "Bios" Rahim) are not Standard-legal until System Update 2021 releases. They are also not legal for this event. Likewise, Ken "Express" Tenma, which is offered as a prize for the Core Experience side events, is not legal in Core Experience until System Update 2021 releases.
---
Prizes – Main Event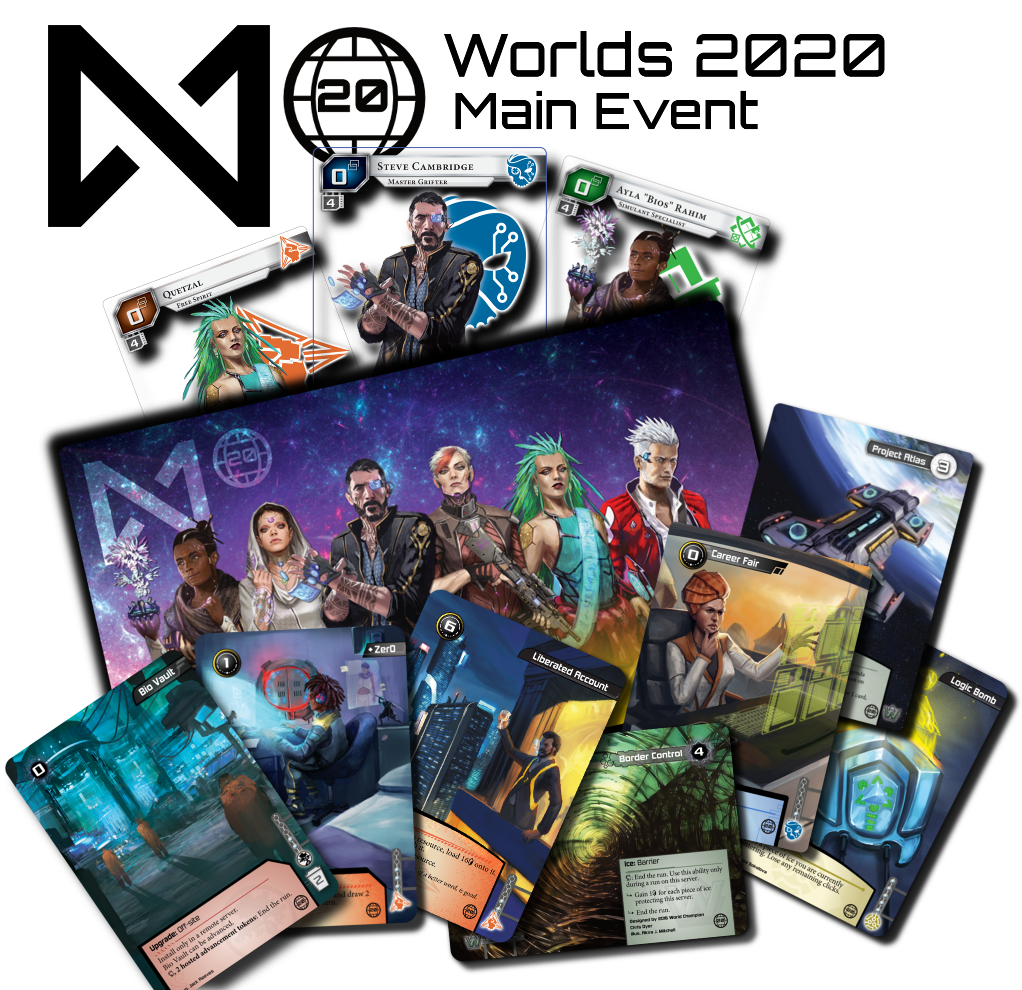 Qualification
Prize
0 points (participation)
3× Border Control (Akira J. Mitchell)
3× Career Fair (Olie Boldador)
6 points (2 wins)
3× Logic Bomb (Elizaveta Sokolova)
12 points (4 wins)
3× Zer0 (Elizaveta Sokolova)
18 points (6 wins)
3× Project Atlas (Kira L. Nguyen)
24 points (8 wins)
3× Bio Vault (Jack Reeves)
30 points (10 wins)
3× Liberated Account (Kira L. Nguyen)
Top Half
Faction dice
Top 32
System Update Runner playmat (Benjamin Giletti)
Top 16
Plastic System Update IDs (Benjamain Giletti):
1× Steve Cambridge: Master Grifter
1× Ayla "Bios" Rahim: Simulant Specialist
1× Quetzal: Free Spirit
Top 8
3× each of foil versions of the non-ID cards above
Top 4
Secret prize to be announced on-stream during the Prize Ceremony
Champion
One-of-a-kind playmat featuring upcoming card art by David Lei; title of "NISEI World Champion 2020"; and the chance to work with NISEI Design and Development teams to create your own card for printing in a future NISEI product
Prizes – Standard Side Events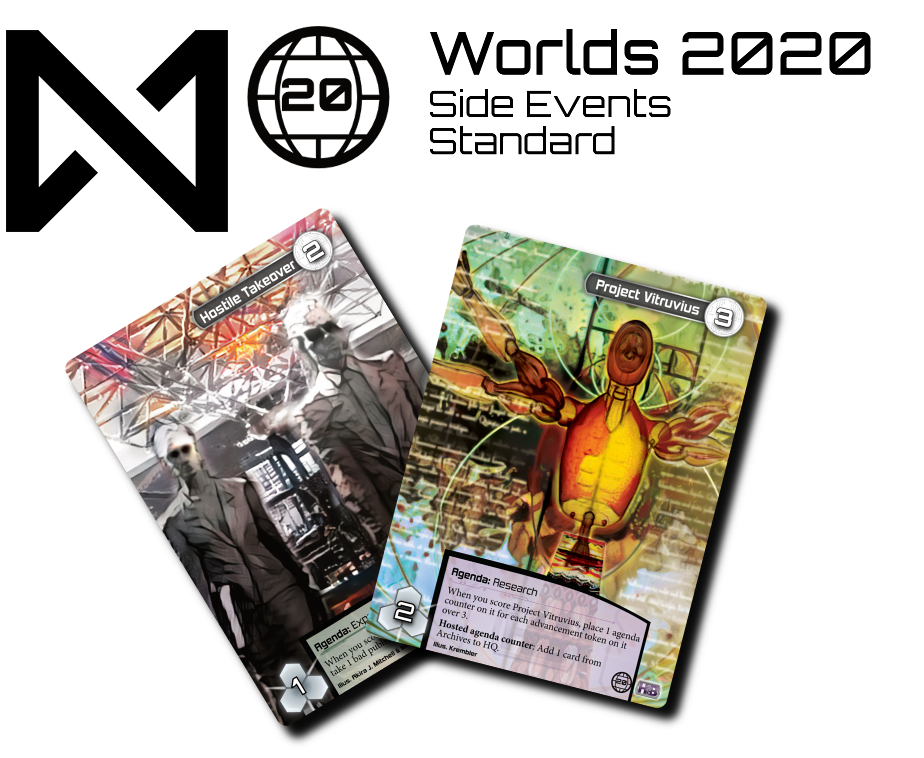 Prizes – Core Experience Side Events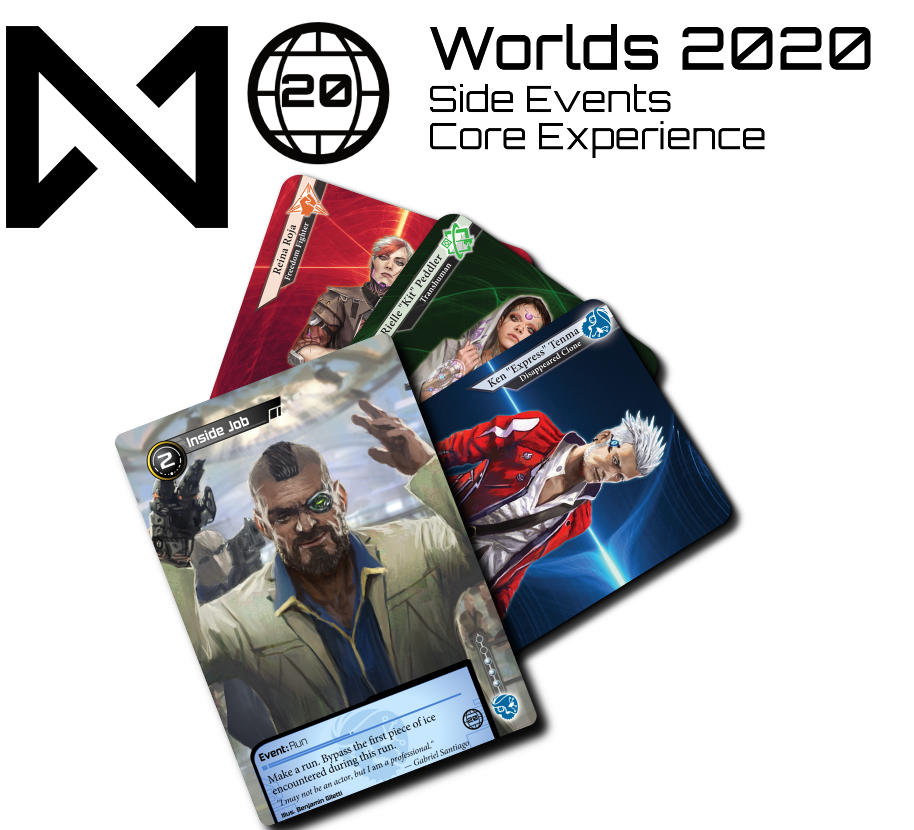 Prizes – Eternal Side Events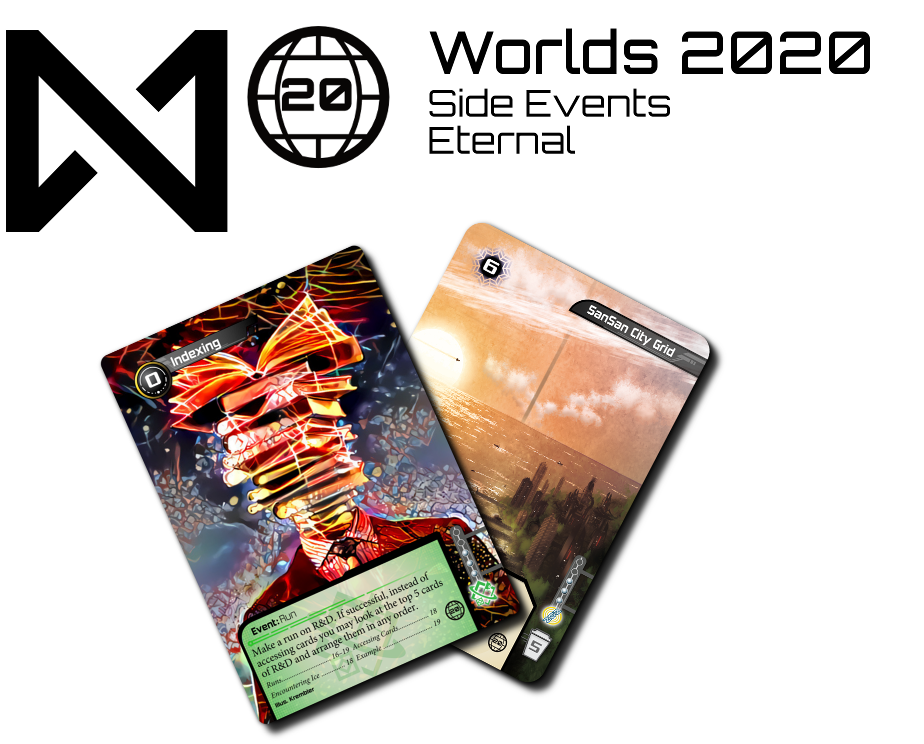 Prizes – Draft Side Events
| Qualification | Prize |
| --- | --- |
| Participation | 3× Full-bleed Slot Machine (Krembler) |
| Top 2 | 3× Full-bleed Stargate (Iain Fairclough) |
As with the Continental Championships, we will order prizes after the event has concluded. This will allow us to order exact quantities – fewer leftover prizes means less overhead for us and cheaper tickets for you! As such, we have lowered the ticket price to only $35 US.
We'll "see" you all there – and if the stars align, in Toronto in 2021. Until then—