Today we'll have a look at NISEI 2021 World Championship schedule and prizes. We hope you'll all join us there for a fantastic weekend of Netrunner!
The World Championship will be occurring entirely online over the 19th, 20th and 21st of November 2021. As it has been the norm for the past two years, play will occur via Jinteki.net and communication via the Project NISEI Discord server. The schedule is as follows:
Day 1A: Friday 19th November 2021
This day's schedule is better suited for those in Europe and Africa. Registration will close Thursday, the 18th of November, at 11:59pm UTC for both Day 1A and Day 1B.
Day 1B: Saturday 20th November 2021
This day's schedule is better suited for those in North and South America. Registration will close Thursday, the 18th of November, at 11:59pm UTC for both Day 1A and Day 1B.
We have arranged the time zones for all three days to best suit the majority of attendees. We recognize that these times will not be ideal for everyone, but we encourage players to prepare for playing in these time zones just as they would for an in-person event. Check-in times for both Day 1A and Day 1B are also noted in AWST to help those in Asia-Pacific decide which day better suits their schedule.
Each day of Swiss will be up to seven 65-minute rounds, 10-minute break in between each round and a 45-minute break between rounds 4 and 5. We expect each Swiss to take about 9 hours, so plan accordingly. Just like previous virtual events, you will need to check-in via the Project NISEI Discord server before the event begins, as we will use it for all official communication over the weekend.
You will also need to fill out the registration form which will include your decklist. Once you submit a decklist it cannot be changed, so please be careful. You may also indicate your preference for Day 1A or Day 1B (or both). We will do our best to honor everyone's preference while still maintaining balance in the number of players each day. If you have no preference, we will assign you to whichever day has fewer players.
The registration form can be found here, but it will not open until November the 2nd to give players time to adjust to the new Standard ban list. The registration will conclude Thursday the 18th at 11:59pm UTC to give time to our admin team to register everyone. We will send everyone who has purchased a ticket an email 24 hours prior to the registration form closing and will also post on all our social media for those who haven't bought a ticket yet.
Day 2: Sunday 21st November 2021
Player Meeting – 1:00pm UTC
Tiebreaker round – 1:15 pm UTC
Cut starts – 2:00pm UTC
The final day is the culmination of the event with a single tiebreaker round (if required) followed by a cut to top 16. An announcement at the end of Day 1B will clarify who has qualified and those players will also be notified individually.
At the conclusion of the double elimination rounds, NISEI will host a short Prize Ceremony with the top players on the official stream.
Side Events
Also running all day Sunday are side events. These events have no scheduled start and end times and will be run on a first-come, first-serve basis. Side events will not be covered on the official stream—but we encourage streamers who want to cover these events to reach out to us at info@nullsignal.games! Entrance for these events are included in your main event ticket, and there is no limit to how many you can join. Formats, prizes, sign-up sheets and further information will be posted in a separate article.
For more information about each format, please see this page.
Afterparties/Socializing
We all miss socializing with our friends after a tournament. Hopefully, next year we won't have anything to miss, but until everything is back to normal again, NISEI and others will be hosting virtual afterparties every day at the conclusion of the main event! Some of these will include fun activities like Jackbox party games and Netrunner trivia via Kahoot. There will be plenty of separate rooms to join based on your preferences. If you are interested in hosting your own virtual happy hour or afterparty or helping with an official one, please reach out to us at info@nullsignal.games! At the end of each day we'll provide a list of events that you can join to "see" your friends, or make new ones!
Prizes – Main Event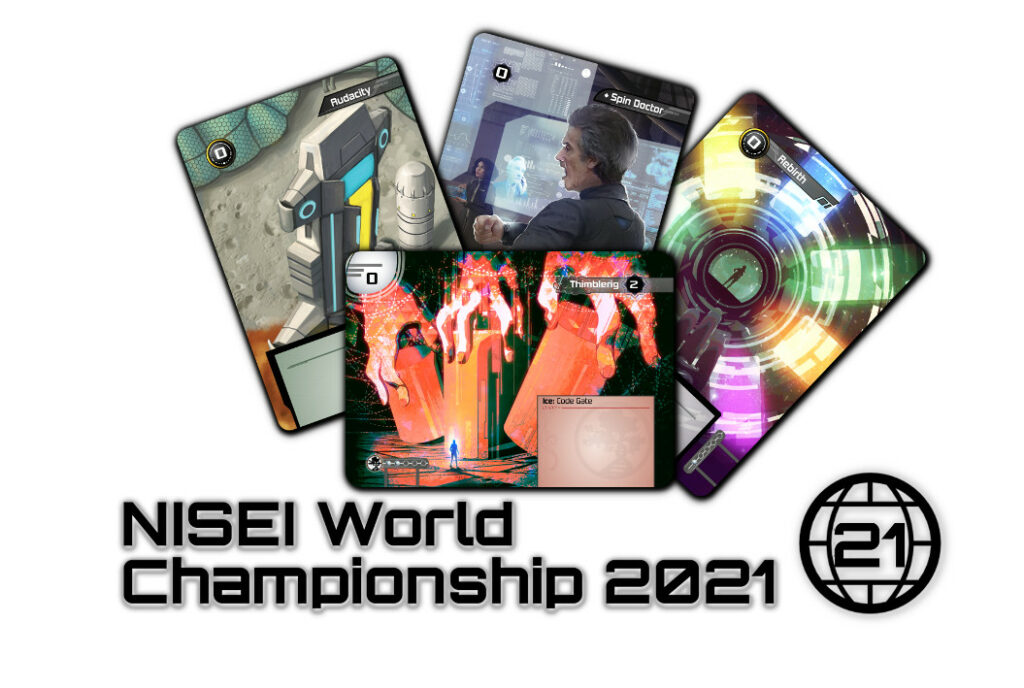 We do not yet have final images of any of the prizes, due to life. We'll update this post with images as they become available. —Editor
| Qualification | Prize |
| --- | --- |
| 0 points (participation) | 3× Spin Doctor (Art by David Lei) |
| 9 points (3 wins) | 3× Thimblerig (Art by Scott Uminga) |
| 18 points (6 wins) | 3× Audacity (Art by Olie Boldador) |
| 27 points (9 wins) | 1× Foil Rebirth (Art by Scott Uminga) |
| Top Faction | Token Box (by Dan Bouchard) |
| Top 32 | Falsified Credentials playmat (Art by Benjamin Giletti) |
| Top 16 | Overclock sleeves (Art by Scott Uminga) |
| Top 8 | NISEI Tote Bag |
| Top 4 | Card Spoiler Rights; set of the spoiled card in Foil |
| Champion | One-of-a-kind playmat; title of "NISEI World Champion 2021"; and the chance to work with NISEI Design and Development teams to create your own card for printing in a future NISEI product |
All Organised Play prizes for this season will be ordered and sent after Worlds 2021, making our logistics much easier and the tickets' prices way lower!
If you have any further questions, please send us a mail to op@nullsignal.games.
Good luck and have fun!