Hello! Extrac from the production team here with another update on the latest status of Parhelion.
It's been an intense month over at NSG HQ, as we're approaching the home stretch on the set's production: Art, Narrative, Translation and Rules have all been hard at work to get the card content finished and ready to go before the printing cutoff in November. We've been assessing the viability of December 2nd as the date for the digital release of Parhelion (with the physical release on MPC/DTC and partner retailers the Monday afterwards) over the last couple of weeks. We have concluded that, whilst the date is achievable, it would result in a dangerous period of crunch time towards the end of our production cycle. We have therefore opted to push back the release by one week, to the 9th of December for digital and the 12th of December for physical.
The primary reason for this is fairly straightforward: we underestimated the impact of Worlds on our schedule. The event was in close proximity to a few of our finalisation steps which, combined with many of us attending the event, resulted in a loss of momentum at a critical juncture in our pipeline, and meant we had to play catch-up during recovery. This is a lesson learned for us, and we will be instituting an embargo/blackout period for the event in our future production schedules to accommodate this.
In the first production meeting post-Worlds, we took action to determine whether to push back the date by the end of that week. Following conversations with Narrative (for flavour text), Art, Rules, and Translation, we concluded that an extra week would provide the safety needed to deliver a quality product, whilst maintaining proximity to our original target. We therefore moved out the remaining tasks accordingly. We would like to apologise for the week's delay, and are confident in our new projected date.
Diving into more detail on the individual areas directly involved with this pipeline:
Art: Progress has been steady outside the Worlds impact, with finalised pieces being received by the art team and iterated via feedback over the last month. A few pieces didn't quite match up with the vision our creative directors had in mind, which necessitated some rework. That being said, we are anticipating all final art will be back in by the end of October, ready for proofing and templating the following week.
Rules: The timing of the Rules team's work meant that it was not as affected by Worlds as other teams. Rules have completed final rules text for the cards and handed them over to translation to begin their work.
Narrative: Narrative have finalised flavour text this week in preparation for their handoff to translation. They will now be turning their attention to fiction pieces in preparation for new spoiler season.
Translation: With the completion of rules and flavour text, our translators are spinning up to start their run of translations, so that these are ready and in place for the new physical launch date of Parhelion. It's anticipated that once this process starts it will progress smoothly.
The new revised dates can be seen on the Gantt chart below.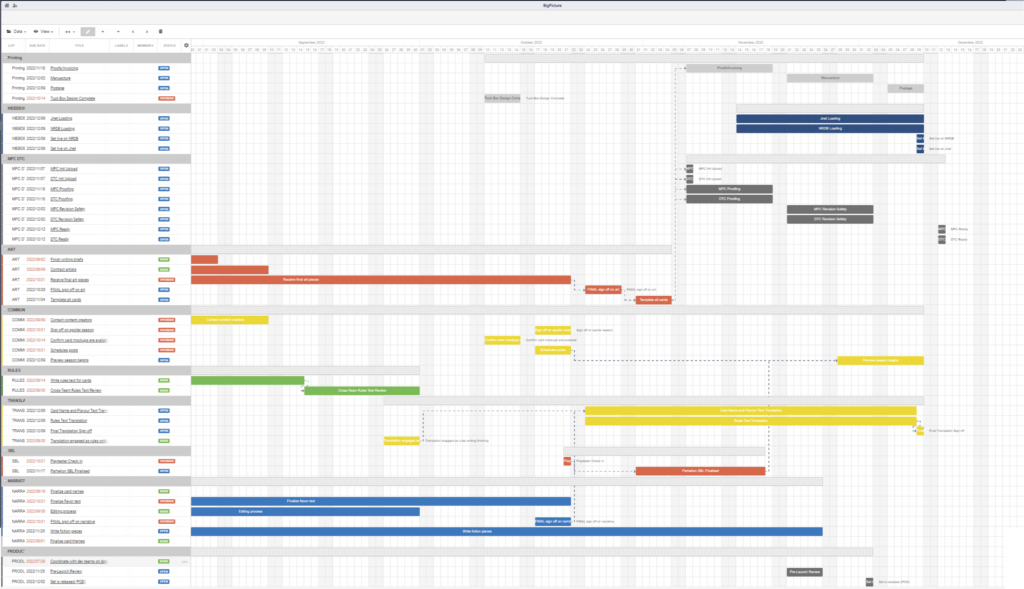 On another note before we close: We know many of you have been asking for updates on the System Gateway remaster. Rest assured that work is continuing on the project with an ETA of around November. More details will be shared in a separate article on this, coming shortly.
That's all from us in production for this month. Whilst we're a little disheartened to have to delay Parhelion's launch by a week, we feel it is the right decision to ensure that we can continue to deliver a quality product to the community. Getting two releases a year out is still a primary target for us, and we will continue improving our methodologies in order to keep the cards flowing and keep the deckbuilders busy. We're looking forward to sharing more scoops with you all (in addition to the ones already revealed at Worlds!) next month.
Always be running!