Hello Netrunners!
We hope you all are enjoying the spoiler season. We in Organised Play have been toiling away on a suite of events to help you enjoy Netrunner in 2023. First among those, we're (finally) announcing details for the Circuit Breaker Invitational event!
This tournament has been a long time coming, and went through several iterations and ideas for what it would represent. What we finally landed on is something that will begin each year in January, acting as both a postseason wrap up for the previous year and a way to ring in new seasons with our fourth quarter sets. We plan to run the Invitational next year and beyond, and believe it will be an enjoyable new tournament type to kick off each season with skilled players' takes on new cards.
We anticipate running this year's event as a two-day weekend event on the weekend of January 14-15, 2023, with 5 rounds of Swiss starting at 13:00 UTC on January 14, and a cut to Top 8 starting at 13:00 UTC on January 15 (we will extend Swiss rounds based on attendance). The event will be online, hosted in the Null Signal Games Online Events Discord and our tournament mirror of Jinteki. It will also be streamed on the Null Signal Twitch channel. The Circuit Breaker Invitational will be Standard Format.
To participate, you have to have claim your top placement on Always Be Running in a Circuit Opener, Store Championship, Regional Championship, or National Championship that took place anytime in the last three years (2020-2022), and fill out the application form. Applicants to the Circuit Breaker Invitational must have won one of these events using the appropriate tournament kit, and the event must have had 8 or more participants.
Applications will close December 30th, and shortly thereafter applicants will receive a confirmation email allowing them to purchase a ticket to the event. Tickets will be $10, which we are charging simply to cover shipping costs. National Championship winners will have their ticket costs waived as a special nod to their high placement in a more prestigious event.
Prizing
This tournament is anticipated to be a highly competitive event attended by skilled players. As such, we've taken a wonderful new art from Parhelion and made it the signature art of the event. It is for a card called Reaper Function (which will be previewed soon!), and will appear as both a playmat and watermark on card prizes. Check it out.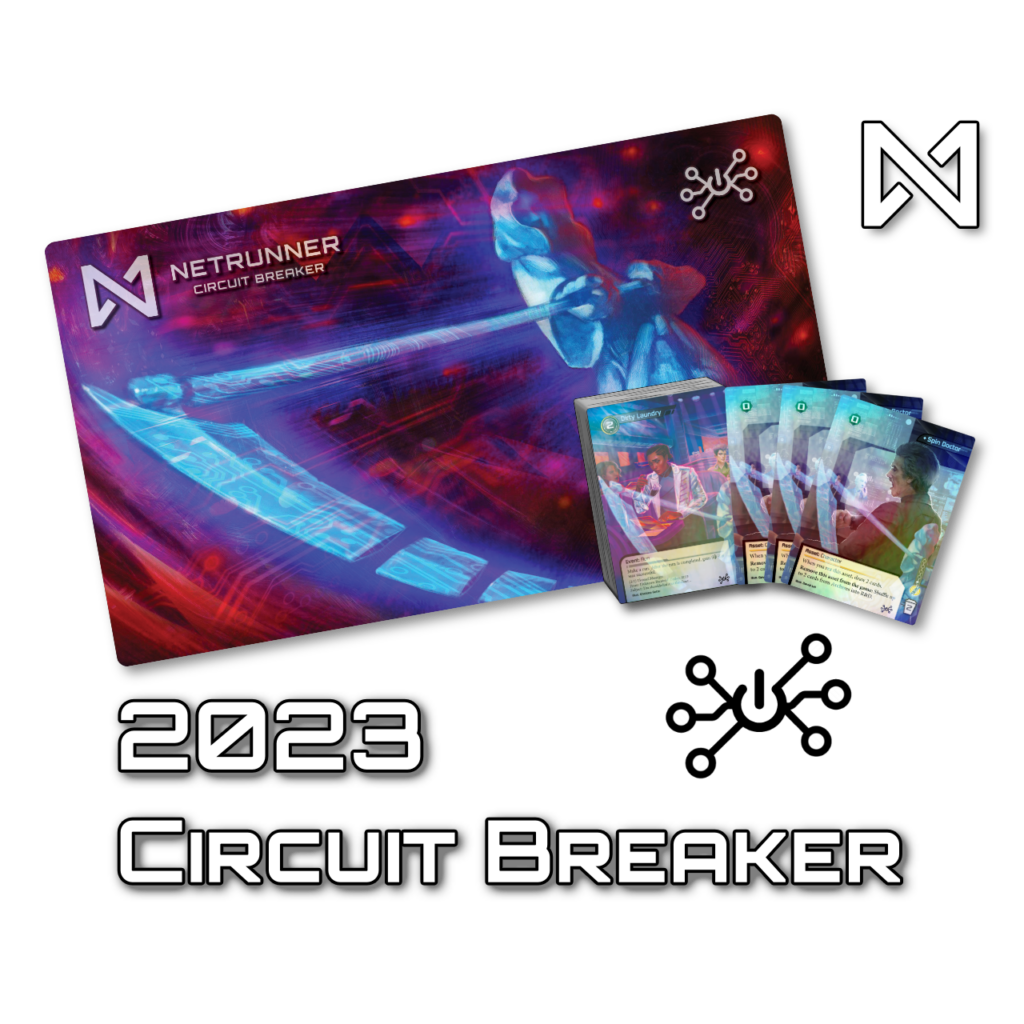 Every qualified player who signs up will get a playset of foil Dirty Laundry with a special Reaper Function watermark. Players who place in the top half of standings get foil Spin Doctors using the same watermark. The Top 4 will receive a Reaper Function playmat marked with their placement. These foils with this watermark are exclusive to this event, never to be seen again, and will stand as a special testament to the skill of these rare few.
Additionally, the top four players of each Corp faction (including the as-yet-unseen neutral one!) will receive a enamel pin matching their faction. These pins will not be exclusive to this event – you will see them used again in the 2023 season.
Lastly, the likeness of the winner of the tournament will be seen next year on their own Reigning Champion Card! This is a special promo selected with our Organized Play team with your choice of art.
We look forward to seeing what these exceptional players bring to the table in this early season event. Get ready to name a new type of champion: The Circuit Breaker.