Continental Championship Dates

As the middle of 2023 approaches, the Netrunner community is buzzing with excitement for the upcoming Continental Championships. We're pleased to announce the following dates for the Europe, Middle East, and Africa Championship, Asia Pacific Continental Championship, and Intercontinental Championship.
5th/6th of August: Asia-Pacific (APAC) Continental Championship
19th/20th of August: Europe, Middle East, and Africa (EMEA) Continental Championship
2nd/3rd of September: Intercontinental Championship
These tournaments will take place online on Jinteki.net and use Double-Sided Swiss pairings with a Top Cut (size determined by attendance as per the Organized Play Policies). The Top 4 players from all three Continental Championships will receive an invite to the Intercontinental Championship. Expect exact details and times in an upcoming article.
The American Continental Championship will be in person this year, and the date for that will be announced once we have selected a candidate.
As a treat, we would like to share with you the selected Reigning Champion Card, featuring Finn Broman, aka Bridgeman: Urban Renewal!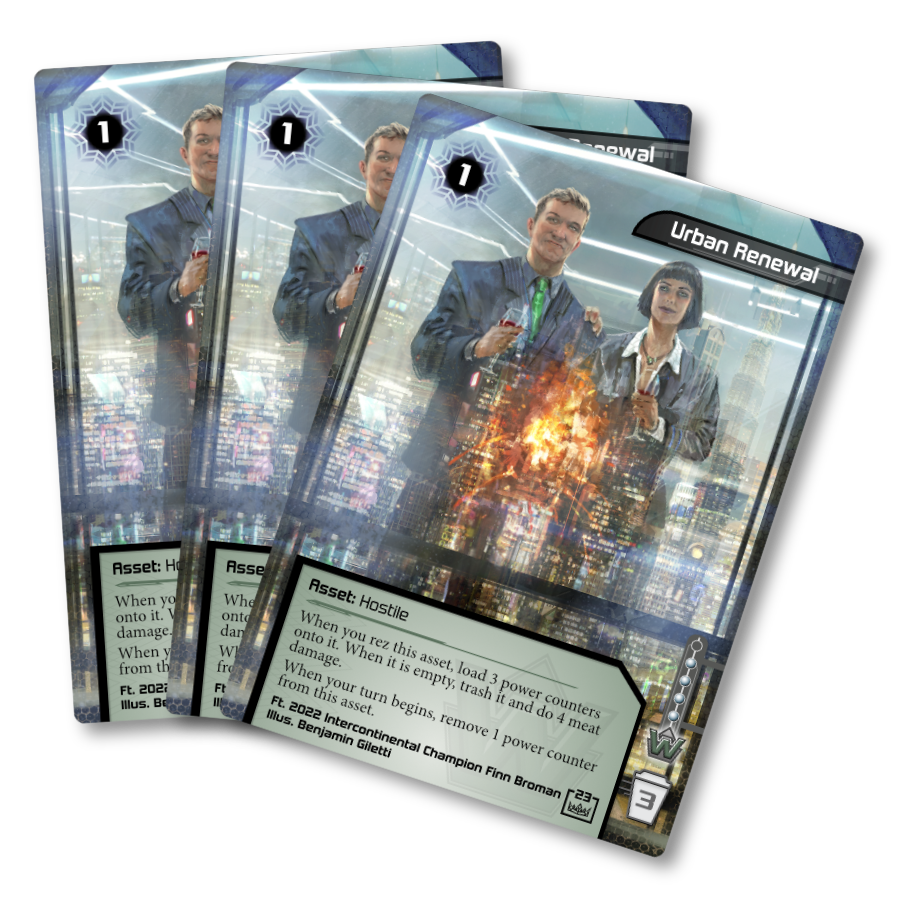 This piece by Benjamin Gilletti celebrates Bridgeman's win at Intercontinentals and was one of the key cards in his deck. Casting a cold stare out a high-rise window, Bridgeman witnesses Weyland's trademark form of retribution for would-be Runners who mess with their plans.
National Championship Locations

Along with the Continental Championships, the National Championships have been awarded to their respective countries and tournament organizers!
As not all organizers have announced the specific dates and venues yet, Netrunner enthusiasts are advised to check AlwaysBeRunning.Net for updates and tournament listings.
To help you be on the lookout for events in your area, or areas you may like to visit, here are all the countries that have been awarded a National Championship (links to AlwaysBeRunning pages where already available).
Australia, East
Australia, West
Austria
Canada, East
Czech Republic
Denmark
Finland
Hungary
Ireland
Italy
New Zealand
Poland
South Africa
Singapore
The Netherlands
United Kingdom
United States, West
Season Tracker
To help players and organizers keep track of the competitive season schedule, we created the 2023 Competitive Season Status Page. There you can find information on what types of tournaments are running, what is the permitted period to organize a certain type of event, which tournaments are in the application stage and when the application period ends, and other useful information. Please keep checking back, as it will continue to be updated as we solidify more of the competitive season schedule.
You can also access this link from both the Players and Organizers tabs within the Null Signal Games website.
Always Be Running.