Hello Runners! The NISEI Organized Play team is happy to announce the 2019 Regionals prize support and open registration! We wanted to spoil things a bit sooner, but didn't want to steal RC's thunder before yesterday's announcement. Regionals season will begin around 11 May 2019 and may be scheduled any time between then and the end of September. Hopefully you're all as excited for this kit as we are! Here's what to look forward to: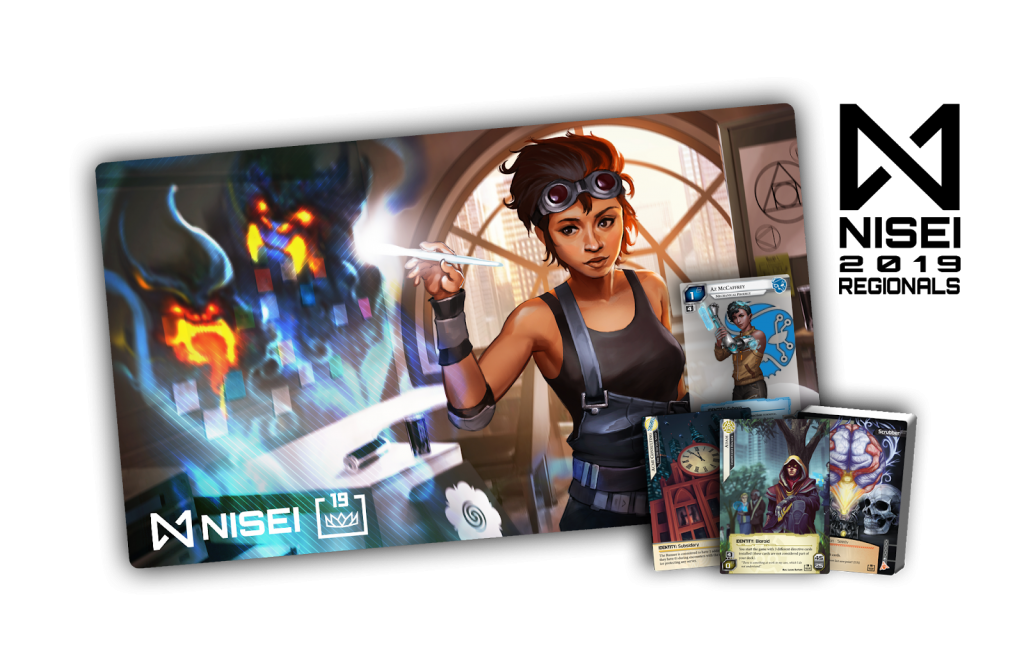 The Regional kit will cost $120 US, including free shipping anywhere in the world, and contains:
First place: First-round bye for any NISEI National or Continental Championship
Top 4: Frosted plastic Az McCaffrey (a new Runner from Ashes: Downfall)
Top 8: Playmat featuring The Artist
Top 16: Alt-art ACME Consulting: The Truth You Need
Participation/Top 32: Alt-art Adam: Compulsive Hacker
Participation/Top 64: Alt-art Scrubber
This kit also contains an extra set of all the prizes for the TO to keep for themselves or give out at their discretion – 1x plastic Az, 1x playmat, 1x ACME, 1x Adam, and 3x Scrubber!
For Regional Championships we'll be using an application system similar to FFG's. It's very likely that you will be approved to run an event if you apply unless there are multiple applications in your city or region, in which case we will choose only one. Applications will be open for two weeks – until Sunday 3 March 2019 at 11:59PM GMT. Once the application window closes, we will contact everyone who applied with our decisions and those who were approved will be given instructions on how to purchase their kit and move forward with their event.
If you are interested in hosting/running a Regional, you'll need to apply via this form.
The Organized Play team is also looking for some new members! If you're a team player, committed to the future success of the game, and interested in one of the positions below, please shoot us an email at info@nullsignal.games to apply!
MWL Committee Member
This person will help analyze tournament data, listen to concerns about the meta, collect playtesting results, and propose changes to the Most Wanted List to address issues with the Standard and Eternal formats. A firm grasp of the competitive meta is essential.
Alternative Formats Coordinator
This person will be in charge of creating and curating a NISEI draft cube as well as suggesting rules revisions for the Draft and NAPD 3-vs.-1 formats (and any other formats NISEI decides to officially support in the future). The ideal candidate would have considerable experience with cube design and drafting.
That's all we've got for you right now – but stay tuned for more Organized Play announcements regarding 2019 Continental Championships, the World Championships, and more! Until then…